May 21, 2021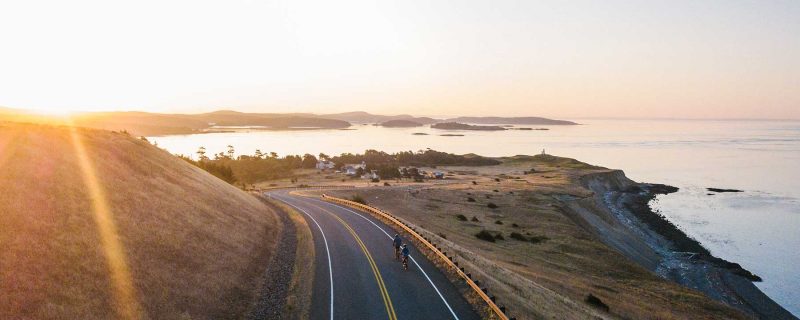 Over the pandemic, the last year cycling has grown and added many new riders to its ranks. The bike industry was abuzz with all the new riders joining the greater cycling community and the potential for bike and accessories sales. But with production halts and record sales bikes, parts and accessories have become difficult to get.
So with all the new cyclists out there, I wanted to talk about the wonderful cycling opportunities on San Juan Island. For those bringing their bikes or those looking to rent one of our bikes. San Juan has a very diverse terrain with rolling hills almost constant. None of the hills are long assents but just enough that you will get your workout in. The small roadway lends to varied scenery from heavily forested roadside to open landscapes with ocean views. Many new riders are concerned about the narrow feeling of our roads but traffic generally travels at a low speed. It is always best to find a place to let cars pass and find the shoulder of the road when cars want to overtake your position. Sharing the roadway is important.
Routes can be as challenging as you wish. One can choose a simple route like the Pear Point Loop where you can find a nice 6 mile ride on a smooth road surface road to a more challenging ride that will take you around the entire island. We have great destination rides that take you to some of the most scenic parts of the island.
A simple ride up to Roche Harbor is very popular. Roche Harbor is a resort community that has a different feel than the town of Friday Harbor itself. There are a couple of dining options where you will find plenty of options for lunch or dinner. Walking the docks and generally taking in the Roche Harbor vibe while exploring the small art kiosk or enjoying an ice cream is a perfect short day. The ride out and back from Friday Harbor is approximately 10 miles.
Looking to get away from town? Then we recommend the ride to the south end of San Juan Island to American Camp National Historic Park. Open grasslands of the south end have beautiful views with lots of wildlife viewing. Small hikes through the historic camp down to the cliffs to the waterfront make for an amazing adventure. There are plenty of pocket beaches to explore and the largest public beach on San Juan. This is one of our favorite rides as there are small offshoots to explore along the way.
Another destination ride is to Lime Kiln State Park. The waterside State Park is very scenic with the iconic Lime Kiln Lighthouse. There are some great short hikes through Douglas Fir and Madrone Tree forest. But most people go to sit and enjoy the view of the water and the Olympic mountains. There is a small concession stand at the Parks. So pack a lunch if you plan on spending time there.
If you are up for the big ride you can circumnavigate the island. See it all in a single, long, day for cycling. Take your time to explore other parks and hiking areas. We always recommend taking the day to ride around the island. Not because the ride is particularly difficult. But to ensure you have time to visit all of the beautiful areas on the island.
If you rent a bike at our shop we will give you plenty of route options and all the little hidden gems along the way. We specialize in renting electric-assist bikes on San Juan Island. We currently have the largest electric bike fleet on the island. We make the process of renting a bike, learning how to use electric bikes, and finding the perfect route that fits your riding preference. With our office a short 3-minute walk from the ferry we make a perfect option for those traveling without a car.
We also have cycling tour options that depart from our downtown office in Friday Harbor, Wa. The guided cycling tours focus on cycling to our parks and going for a hike with your guide to learning more about the wildlife and history of the area.
About Us: The Discovery team is all about adventure and exploration. We are a diverse group of outdoor guides that lead a life of being in the outdoors. We offer a range of options from cycling to kayaking. With a full range of guided kayak tours, we can get you set with all of your adventure needs in one place. We also work with Western Prince which offers whale and wildlife powerboat charters. Most of us here on the team are lifetime outdoor professionals. Join us on an adventure in the San Juan Islands and take home a memorable experience.
Questions or comments? Phone us at or send an email to [email protected]. You can also visit our contact page and submit an inquiry via our contact form.
Posted In: Discovery Sea Kayaks